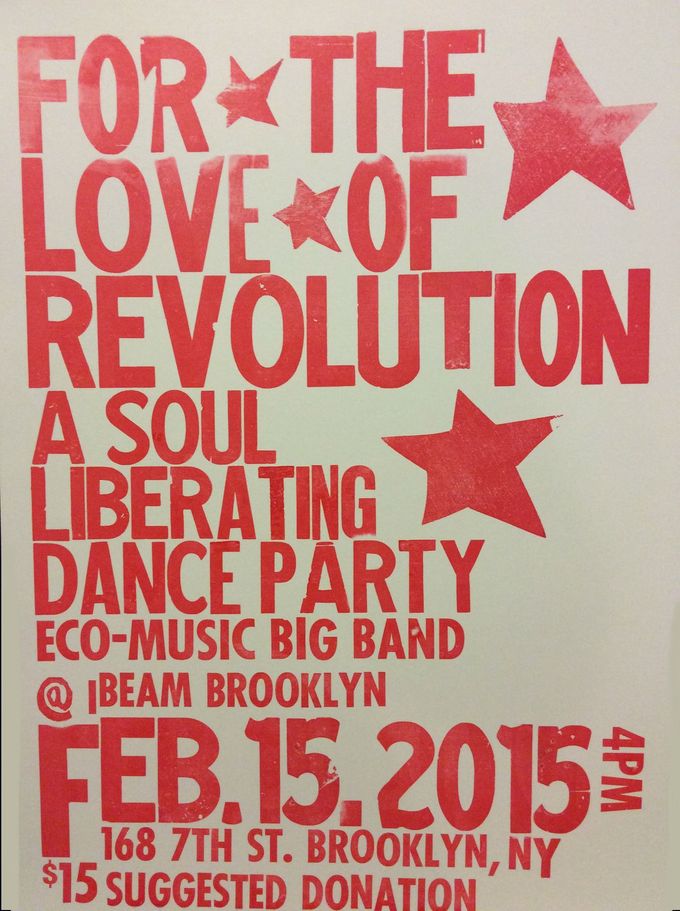 https://www.facebook.com/events/1521764251445483/#sthash.9rxZMC31.dpuf
Join the Eco-Music Big Band for a revolutionary dance party! FOR THE LOVE OF REVOLUTION is a celebration of revolutionary music and struggle that includes queer liberation, third world struggle, womyn's liberation, the struggle for ecologically sound living, and the liberation of black and brown peoples. Featuring a hip hop reimagining of Cal Massey's magnum opus Black Liberation Movement Suite, poetry by R. Erica Doyle, a reading by Marina Celander, and modern big band works by Jay Rodriguez, Albert Marques, Marie Incontrera, and others. This event is the first of its kind in the 21st century: taking the concept of the dance big band of the 1940s and bringing it into the present with new works, revolutionary hip hop (featuring spiritchild, Prince Akeem, and other young artists), liberation of the body, and exciting tributes to the great historical figures of the black liberation movement, including Aishah Rahman. 

The Eco-Music Big Band is a 15-piece professional big band that spans many generations and includes some of the nation's most acclaimed jazz musicians. Our roster includes bass trombonist David Taylor (Gil Evans, New York Philharmonic), saxophonist Jay Rodriguez (Ornette Coleman, Craig Harris), bass trombonist Earl McIntyre (Mel Lewis, Thad Jones), Zack O'Farrill and Adam O'Farrill (Arturo O'Farrill, Randy Weston). The Eco-Music Big Band is led by Marie Incontrera, who was Fred Ho's final composition protege.

Hailed as "talented... inspiring" (The Vermont Standard), The Eco-Music Big Band is committed to presenting the music of the legendary jazz composers of the 20th century that were overlooked (such as Cal Massey), to continuing the legacy its prodigious composer & founder (the late Fred Ho), and to providing a platform for the next generation of big band composers.

This event is presented by the Eco-Music Big Band, A New Black Arts Movement, and Scientific Soul Sessions.