Bandcamp album review by By Robert Newsome
Hopkins is from #New York, allowing us to use that location tag to pull back, adjust focus and drop in on another artist, moving from effects-laden harp artistry to a captivating Bronx MC. 
Spiritchild 
maroon militant matriarch (mxn's mirror) 
spiritchild 
Bronx, New York 
✓ F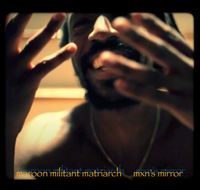 OLLOWING 
maroon militant matriarch (mxn's mirror) spiritchild 
BUY GO TO ALBUM 
/album/2094740/maroon-militant-matriarch-mxn-s-mirror
Bronx rapper Spiritchild's fifteenth album is a thick, layered listening experience weaving together the sound of mid-to-late-'90s East Coast rap, reggae, and other Caribbean music styles, and politically charged, aggressively delivered lyrics. On "we born free," a menacing looped sample (either a distorted guitar or a synth pretending to be one) and a reggaetón-style beat provide a bed for acrobatic rhymes and a celebratory chanted chorus with a hook sharp enough to stick around long after the song ends. The entire album is explicitly political, but the centerpiece of both the musical and polemic aspects of the record is "gator bait (a dissertation to the soul of Black folx)," a six-and-a-half-minute history lesson, call to arms, and cultural celebration. Starting with a simple, airy beat overlaid with deep humming voices, Spiritchild's lyrics lay out the album concept of the musician as a Maroon, using music as a weapon in the struggle for liberation and continued freedom. 
Spiritchild incorporates elements of #reggae into his work, as does our next artist, though the influences of this sound are less literal here, instead becoming part of a tightly-woven fabric that is used to craft something fresh and original.